An architect designed a new house which was built for a young couple in 2017 on property A (highlighted in red in map below) and a question was raised whether it encroached into the adjoining property B. A Ground truth survey was carried out to provide an accurate baseline against which other data could be referenced.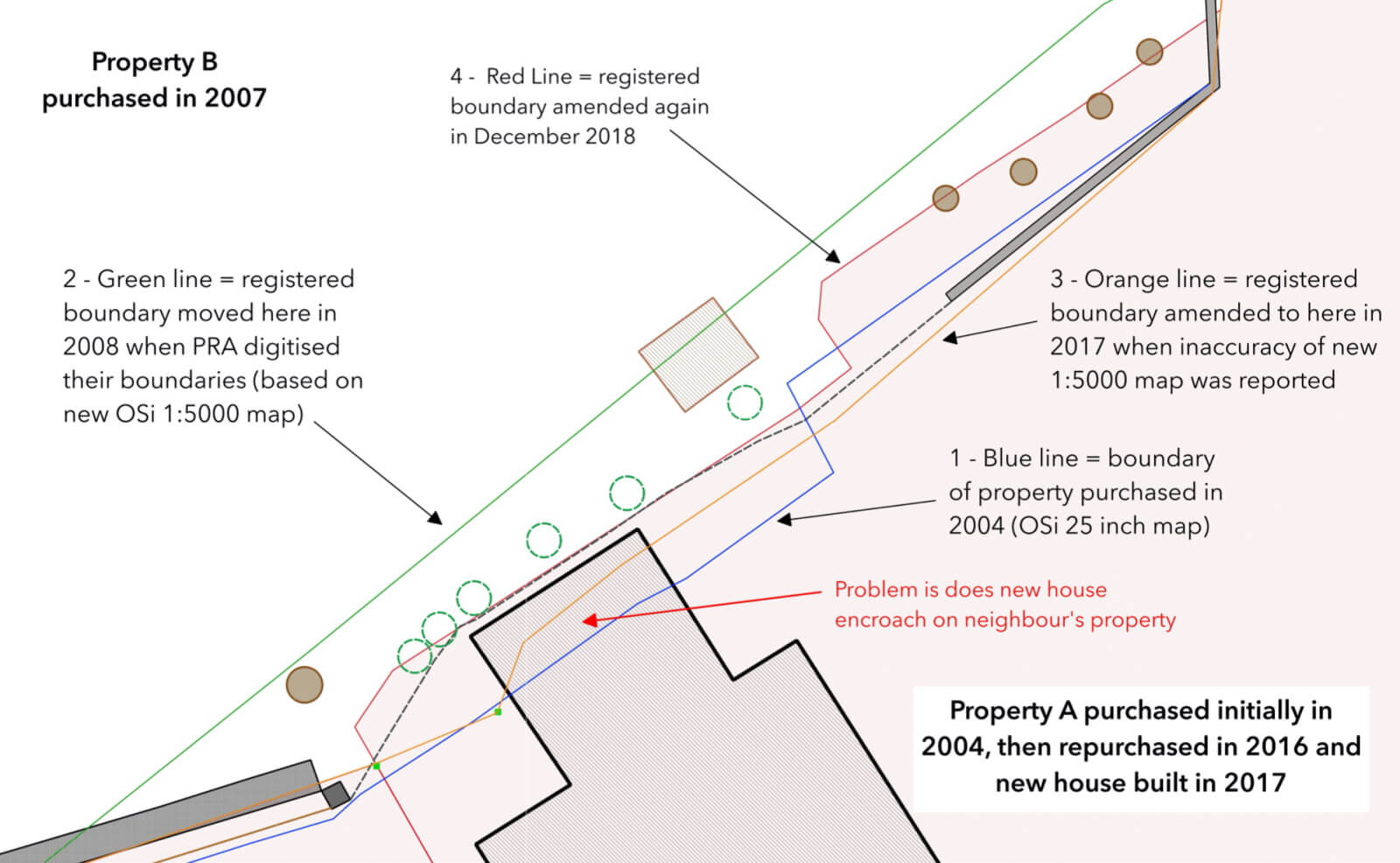 Research On How The Problem Arose
Ordnance Survey Ireland (OSi) created a new map for the area in 2000 at 1:5000 scale from aerial photography to replace the existing 25 inches to 1 mile map. However, when Property A was purchased in 2004 the old 25 inch map was used as the contract map rather than the new map at 1:5,000 scale. Then in 2008 the PRA digitised the boundaries using the new 1:5000 map which had the effect of moving the boundary westwards between 2.5 to 4.5 metres.
When the construction of the house began in 2017, a question of encroachment arose, and an examination identified the problem. This was reported to OSi and they amended their map later that year. When the PRA subsequently received the amended OSi map, they then amended the registered boundary to conform to the new OSi map. However, this amended version of the boundary still indicated encroachment by the new house.
The Result
Representations were made to the PRA that the encroachment was due to the actions of two State organisations and that a young couple were being discommoded as a result. The PRA proposed a second amendment, and both landowners were written to by the PRA in January 2018 and given 21 days to either accept the amendment or give a valid reason why it should not be accepted. This second amendment was finally adopted in December 2018.
Request a Quote or Book a Callback Today
Looking for Something Else?
Landowners Services
We have the knowledge and expertise to advise landowners on the best practices for solving any boundary dispute.
Legal Services
See how we can help you with litigation, from writing affidavits and reports to acting as expert witnesses in court.
Different Boundaries
Visit our Property Boundaries page for more information on the various types of boundaries and the issues that can arise.
Publications
Visit our publications page to read through some of the numerous reports and conference we have contributed to.
FAQs
Check out our FAQ page to see the answers to some of the most common types of questions we get asked.
Past Work
We always strive to deliver the best results possible. See what our satisfied clients have to say about working our services.
Need More Information?
Talk to one of our experts today.